Our skin begins to lose elasticity starting in our forties, and the soft tissue structure begins to weaken.  The result is early signs of facial aging that include mild jowls, the descent of the cheeks with more prominent smile lines, and descent of the brow with a heavy appearance to the upper lid.  While surgery can address these issues, early treatment with non-surgical intervention can postpone invasive procedures for years.  Ultherapy is an FDA-approved treatment that helps reverse the early signs of aging without the need for surgery.
Learn more about non-invasive skin tightening with Ultherapy in Atlanta by contacting The Spa at NAPs. Our physicians can create a treatment plan to help you look and feel your best.
Ultherapy is the only FDA-approved, non-invasive treatment for lifting the skin and reducing lines and wrinkles of the brow, chin, neck, and décolletage.  It uses ultrasound technology to tighten the underlying soft tissues of the face and neck and smooth the skin.  It involves no surgery, no needles, and no downtime.  It can help patients receive a fresher look from the brow to the chest! 
The ultrasound energy focuses on the deep tissue of the face and neck without disturbing the overlying skin.  As a result, there is no downtime.  Patients can leave after Ultherapy and head straight to work or the PTA meeting without anyone knowing they had just received an anti-aging treatment.
Request a Consultation
If you're in the Atlanta area and have any questions about Ultherapy or wish to schedule a consultation with The Spa at NAPS, please contact our office.
Request a Consultation
What is so great about Ultherapy?
It is non-invasive and effective; focused ultrasound waves activate collagen production immediately and support additional collagen for up to six months!  The results get better and better with time. Collagen is our natural protein that tones and firms skin. As we age, collagen loses its strength.  Ultherapy starts a natural process to produce fresh, new collagen that provides support to our skin.
Ultrasound has been used in medicine for more than 50 years and has proven to be safe and effective. With Ultherapy, the ultrasound energy provides a youthful appearance. The ultrasound energy is delivered with precise imaging technology, allowing targeted delivery to optimize results.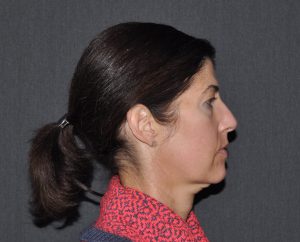 Can I Benefit from Ultherapy?
A good candidate is usually someone with mild to moderate skin laxity that desires firmer and lifted skin.  It is a great option for those seeking non-surgical options.  It is also ideal for those who want to maintain a youthful appearance and be pro-active with managing the natural aging process.
Ultherapy vs. Laser Skin Treatments
These two technologies use different types of energy that treat different depths of tissue.  They can often be used in combination to optimize a youthful appearance by treating both the deep and superficial layers of our face. Ultherapy targets the tissue under the skin.  The ultrasound technology, along with the advanced visualization technology, provides precise delivery of the ultrasound energy to the deep tissues where collagen is stimulated.  Laser, on the other hand, uses light energy and cannot penetrate the deep tissues.  
Can Ultherapy Replace a Facelift?
Ultherapy does not replace surgical correction of facial aging.  However, Ultherapy does stimulate your natural collagen production and tightens the tissue from brow to neck with no downtime.  It is a great option for those wanting a fresher look without surgery and downtime.  The results of Ultherapy are less aggressive and more subtle than surgical correction.  Ultherapy is also a nice option for patients after a facelift to maintain their youthful appearance.
Frequently Asked Questions about Ultherapy Skin Tightening
How long do results last?
Patients treated with Ultherapy will experience new collagen production for two to three months. Since the procedure stimulates your collagen, the longevity of results depends on you.  Patients may want additional treatment three to five years later to facilitate the natural production of their collagen, which is essential to maintaining a youthful appearance.
How much does Ultherapy cost?
Pricing varies according to the area.  Custom plans are made for you at your spa consultation.
The required number of treatments varies according to the patient's skin laxity and desired outcome.  Treatments start at $450, and an average cost for the upper face is $1500, lower is $3500, the neck is $2500, and packages are available for a full neck and face treatment.
What will I look like afterward?
Patients can have some transient light redness. Normal activity resumes immediately. Some patients experience swelling and tingling sensations or tenderness to touch.  These are mild and temporary.   There are no restrictions on wearing makeup or physical activity after the treatment. Ultherapy can be performed in the summer months since there are no restrictions regarding sunlight.
Ultrasound energy has been proven safe and effective for over 50 years. This FDA approved procedure is also used globally.  Over one million patients have been treated with Ultherapy!
Is treatment comfortable?
The sensation of ultrasound energy is temporary and quite tolerable.  We have additional measures to optimize patient's experience, such as numbing cream and nitrous oxide, aka laughing gas.
Will I need to take time off?
With Ultherapy, there is no downtime.  The treatment targets the underlying tissue, not the skin, so there is no visible change to your appearance right after the treatment.  You should not experience bruising or redness. You have no restrictions after your treatment regarding makeup, activities or sun exposure.
Get started with Ultherapy today! Look and feel years younger, with smooth and firm skin – no surgery required. Contact The Spa at NAPS for your Atlanta Ultherapy consultation.